Australia - AUSTRALIA was captivated by the revelations of Melbourne's sinister gangland culture in the television drama Underbelly. The storylines of brutal killings, violent bashings, drug dealing, standover merchants and hired hits shocked and appalled viewers.
But as families sat glued to their TVs watching this controversial series, many were unaware that an equally chilling gang war is erupting right outside their safe suburban homes.
Until now, the frightening truth about the dangerous world of outlaw bikie gangs in Queensland has remained fiercely protected by a code of silence.
But after his harrowing decision to turn informant on his brothers-in-arms, one former gang member has decided to speak publicly for the first time about the current bikie war.
In an exclusive interview with The Sunday-Mail at a secret location, "Steve" (whose real identity has been suppressed by a court order) also reveals the terrible choice that forced him to testify against his mates.
A choice that also has left him a "dead man walking".
Steve formally joined the Bandidos in 2004 after being involved with bikie gangs for 14 years.
"I joined because I liked the men and the whole brotherhood thing, the loyalty and respect," said Steve, who had met several members while earning a living as a drug dealer on the Sunshine Coast.
His criminal connections and past dealings with the club ensured a rapid rise through the ranks.
Within 12 months, Steve was made a "full patched" member of the Bandidos and was the sergeant-at-arms, the club's enforcer, for the Cairns chapter.
"It's a lifestyle. It takes your whole life and your life completely changes. Your family becomes a Bandido . . . the club comes first and all your brothers come first," he said.
"We were a law unto ourselves. There is no feeling in the world of riding in the front of a pack of 500 men . . . you feel unstoppable."
Steve embarked on hedonistic binges on drugs and alcohol that could last for weeks.
"I didn't really use drugs before joining the club, then I was popping 20 pills and snorting lines of coke," he said.
Senior Bandidos had dubbed Steve "the future of Queensland" because of his diehard loyalty to the club's needs.
"I would do anything for the club. I have done s--- that I will never talk about and I have paid with my life a hundred times."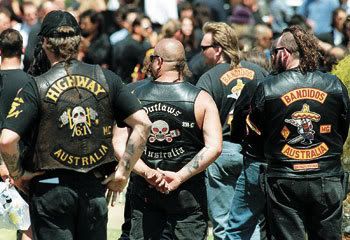 DANGROUS games ... the truth about outlaw bikie gangs in Queensland is revealed by a former gang member.



The Bandidos are one of 12 outlaw bikie gangs that now have chapters in Queensland, boasting more than 700 members, according to police estimates. The stakes are high for these gangs. Financial rewards are dependent on the protection and expansion of criminal enterprise.
Territories, often designated by the presence of a clubhouse and member-owned businesses, ensure ongoing profitability.
Steve said crime and the outlaw bikie gang culture of "one-percenters", those bikies who declare themselves the 1 per cent of society who defy the law, go hand-in-hand.
"While you've got an outlaw culture, you've got crime . . . even if you have never done a crime before in your life, you soon will," he said.
The gangs are involved in criminal activities ranging from drug distribution to extortion and contract killings.
It is a culture whose members' propensity for violence to resolve conflict has played out nationwide in shootouts, murder, bashings and firebombings.
Chapters each have members with "underground connections" but most will set up their criminal enterprises at a distance so as not to bring "heat" on the club.
The Bandidos also have a strict code of conduct – mandatory attendance at the clubhouse every Friday night, never leaving before the president, and strict dress code.
Members are expected to pay a monthly fee to help with maintenance, rent and other members experiencing financial difficulty.
"I was pretty wealthy when I came into the club and I left broke, owing money to other members; at one stage, I was in debt $50,000."
As sergeant-at-arms, meting out brutal beatings to fellow members and externally to anyone who stood in their way became a frequent "duty" for Steve.
He was convicted of assault and grievous bodily harm in Cairns after a brawl with police when they tried to question the group over a bashing at a local hotel.
He would not detail the penalties for members if they broke club rules, saying only that punishment varied from fines to demotion within the club and being assaulted.
About two years ago, gang life turned treacherous at Steve's Brisbane chapter as a national war between the Bandidos and Rebels erupted.
The bloody feud between the country's two largest gangs was sparked by the defection to the Bandidos of several senior interstate members of the Rebels.
"The law within the clubs is that to defect to another club you have to have left your club for two years in good standing. There has to be a cooling-off period of two years," Steve said.
Defection between clubs was taken seriously as gangs fear members will betray secrets, leaving them vulnerable to attack.
The battle reached a point where once-sacred areas such as members' homes and businesses were no longer no-go areas.
"You see a Rebel in a shopping centre, it's your job as a Bandido to take him out, no matter what, otherwise you'll be thrown out of the club," Steve said.
"The war between the Bandidos and Rebels has been going for two years. The last one went for seven and I don't ever see this one ending."
An attack on a Sunshine Coast Rebel in 2006 by Bandidos sparked a series of violent clashes and broke an already uneasy truce between the Queensland-based gangs, which had decided to keep clear of the national war. The Rebel was run off the road and bashed, suffering serious spinal injuries. He told police he had been in a traffic accident.
In February last year, in an alleged revenge attack, members of the Rebels drove into a group of Bandidos riding in formation at Ningi near Bribie Island.
The Rebels, who have been charged over the incident, allegedly bashed Bandidos with baseball bats and axe handles.
"I had taken some leave at the time, because I needed a break," Steve said. "The loyalty and respect had gone in our chapter. Before you could trust a brother with your life, but that was gone. (But) I was getting calls that brothers were getting hurt and I had to go back.
"After this happened (Ningi), there was a lot of talk about revenge on the Rebels."
It was this event which lead to Steve's downfall.
In what many would believe to be a suicide mission, Steve and three fellow gang members torched the Rebels' "mother" clubhouse at Albion on Brisbane's northside.
Steve said he was forced to take part in the revenge arson attack or he would have been "beaten to a pulp". Had he refused to take part, his club would have ejected him on "bad standings", leaving him open to attack from every member of the Bandidos.
He said they would have attacked him on sight and removed his club tattoos with an angle-grinder or oxy-torch.
"If I had been thrown out, they also would have called the Rebels and said I had been kicked out of the club because I had done the arson.
"I had nowhere to go," he said.
Steve later told police that discussions about the revenge attack had been held between himself, club vice-president Ivan Glavas, sergeant-at-arms Kenneth James Whittaker and the then past-president Blair Raymond Thomsen.
He said an initial attempt on the Rebels' Albion clubhouse on March 26 last year failed, but Thomsen ordered Steve to leave a business card from the Bandidos' Sunshine Coast chapter in the door.
"The reason I think he wanted to do the (Albion) clubhouse is because the
Disclaimer: The opinions in this article are solely those of the writer, and may not reflect the beliefs of anyone at the Biker News Network/Outlaw Biker World.
This site may contain copyrighted material the use of which has not always been specifically authorized by the copyright owner. We are making such material available in our efforts to advance understanding of political, human rights, economic, democracy, and social justice issues, etc. We believe this constitutes a 'fair use' of any such copyrighted material as provided for in section 107 of the US Copyright Law. In accordance with Title 17 U.S.C. Section 107, the material on this site is distributed without profit to those who have expressed a prior interest in receiving the included information for research and educational purposes. If you wish to use copyrighted material from this site for purposes of your own that go beyond 'fair use', you must obtain permission from the copyright owner.
If you believe that your copyrighted work has been copied in a way that constitutes copyright infringement and is accessible on this site or through this service, you may notify our copyright agent, as set forth in the Digital Millennium Copyright Act of 1998 (DMCA). For your complaint to be valid under the DMCA, it must meet certain criteria, and you must Click Here to contact acting agent.